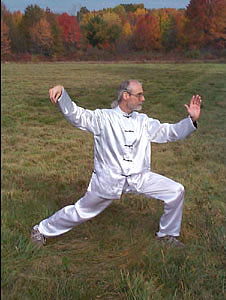 Bill VandenBoom
Bill VandenBoom
Welcome! My name is Bill VandenBoom and I'm a T'ai Chi* and Qigong* instructor. On this website I provide information for prospective students and for organizations that are thinking about starting a T'ai Chi class or a Qigong workshop.
I've been teaching T'ai Chi since 1990 and currently teach a unique version of the Yang Style, Sun Style competition form, 32-step T'ai Chi Sword, and Flying Rainbow T'ai Chi Fan.
In 1997 I was first certified to teach Qigong. Since then I have been holding workshops and weekly practice sessions in Essence Qigong and Soaring Crane Qigong.
Wellness programs are becoming increasingly popular as we understand the need to take an active role in increasing and maintaining our level of health. Whether the wellness program is connected to a hospital or corporation or an independent center, T'ai Chi and Qigong are great tools for stress relief and building and maintaining health.
*Please note that due to different systems of translating the sounds of Chinese words into English letters, there are several different spellings for the following words:

——— T'ai Chi — Tai Chi — Tai Ji — Taiji
—— T'ai Chi Ch'uan — Tai Chi Chuan — Tai Ji Quan — Taijiquan
——— Ch'i Kung — Chi Kung — Chi Gong — Qi Gong — Qigong


Certified T'ai Chi and Qigong Instructor

Phone: 330-673-5026

Bill VandenBoom